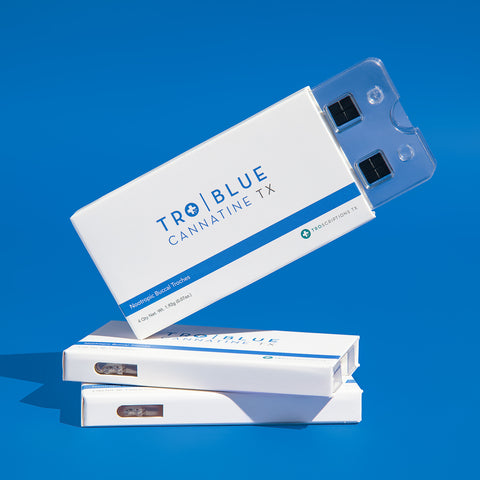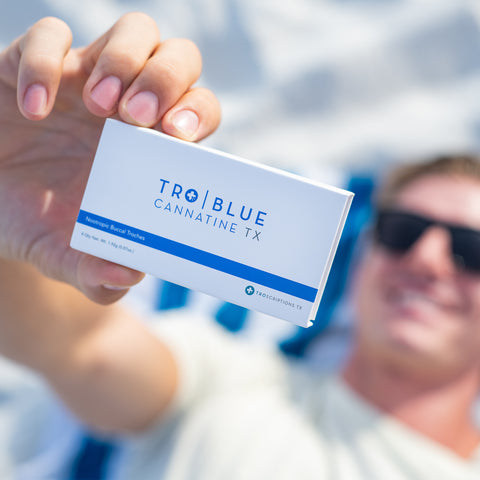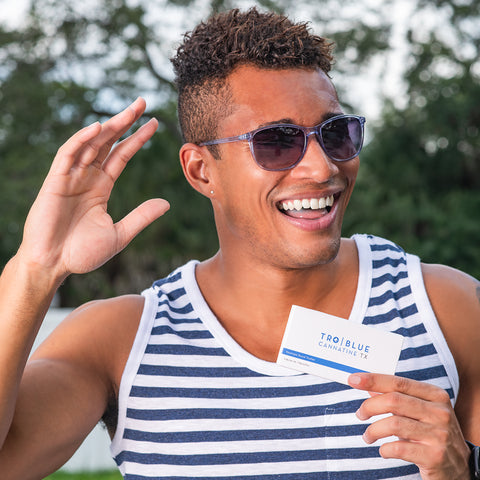 Blue Cannatine
1 Pack = 4 Troches = Up to 16 Doses

5 mg. A powerful brain booster that increases energy production and builds resilience.

1 mg. Sharpens focus, enhances memory, and speeds up reaction time, safely.

50 mg. Boosts alertness and reduces fatigue, giving you that much-needed productivity power.

10 mg. CBD reduces stress, protects the brain, and promotes a calmer, more focused, and more blissful mind.

polyethylene glycol (PEG), stevia extract, lou han extract, peppermint, silica, Bitter-Bloc™
Calibrate Your Dose of Blue Cannatine
1. Choose Your Starting Point
Decide on your starting dose and, if needed, cut the troche accordingly.
Gently place the troche between your gums and upper cheek.
Allow the troche to dissolve completely.
In just 15 to 30 minutes, you'll begin to sense Blue Cannatine's transformative effects.
Enjoy the ride for the next 3 to 5 hours!
Buccal Troche Delivery
Have you been swallowing your supplements up until now? At Troscriptions, we do things a little differently - we use buccal troches
A buccal troche is a uniquely designed delivery system that enhances the absorption of active ingredients directly into your bloodstream. Traditional methods (like tablets or powders) must navigate the detours of your digestive system, but buccal troches allow for more rapid and
effective absorption by skipping the digestive system. The result? A swift, potent effect for maximum benefits.
Beyond USP Ingredients
USP designates a pharmaceutical grade ingredient but for some this may not be enough and there can still be contaminants. This is why at Troscriptions, we go above and Beyond USP. Every ingredient undergoes additional rigorous testing for heavy metals, purity, and potency providing you with peace of mind. Experience the Troscriptions difference, where premium quality and safety are our unwavering commitment to you.
Child Resistant Packaging
Your safety and your family's safety is our top priority, which is why we've gone an extra mile to utilize child-resistant packaging for our products. We understand that this might make the packaging slightly more challenging to open, but it's a measure designed with the utmost safety in mind.
Frequently Asked Questions
What benefits will I get from Blue Cannatine?
What scientific research is the formulation based on?
Will it turn my mouth blue?
Why does it contain Polyethylene Glycol (PEG)?
How many troches am I getting?
Are there contraindications for Blue Cannatine?
Endorsed by Leading Health Professionals and High Achievers

Carlos Condit
Retired UFC Fighter
"I really like Blue Cannatine. It's the best thing I've taken to supercharge my brain. I am able to think quickly, slow things down, drop into flow, and it has been awesome to use during Jujitsu."

Miesha Tate
Former UFC Women's Bantamweight Champion
My favorite thing about Blue Cannatine is that it allows me to function at a high level comfortably. It's easy. I'm able to remember people's names and go, go, go.
"I've been on a diet that requires I really limit my coffee intake and caffeine intake. This has been a bit of a hack for me to get a bump for the extreme mental performance required of me for work. I'm not a fan of the staining, for that I cannot give it 5 stars but it isn't a deal breaker. I'll be ordering more I think."
"I've never felt this sharp and able to multitask. I'm using this with the RCP protocol. I had bouts of literal memory gaps. Now I feel clear, memory recall much improved, to the point where I feel confident stating events happening a certain way with a family member that likes to gaslight me. Worth every penny."
"Blue Cannatine lifts my mood, helps me feel less tired after a short night's sleep, and relieves my brain fog if I eat or drink badly. It really saves me at work some days."

Our team isn't just built on expertise - it's powered by real-world clinical application. We have 4 physicians on the team who use Troscriptions in their practice.
We traverse the globe to create, craft and discover groundbreaking, effective ingredients, subjecting each one to rigorous testing for unparalleled purity and potency.
All ingredients are evenly distributed and carefully calibrated into our formulas. Plus, our troches are scored to help you easily find your unique dosage.

Every formulation we craft undergoes meticulous 3rd party testing, ensuring you're receiving nothing but the finest.