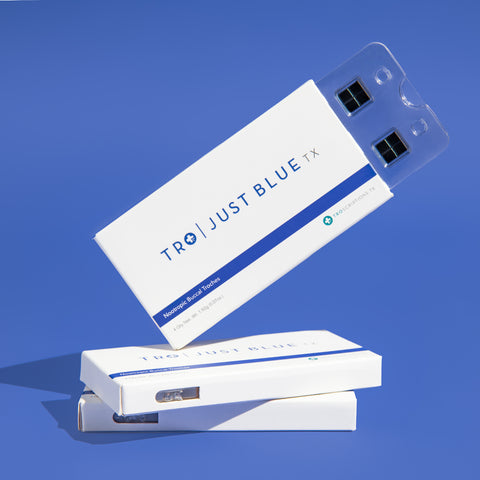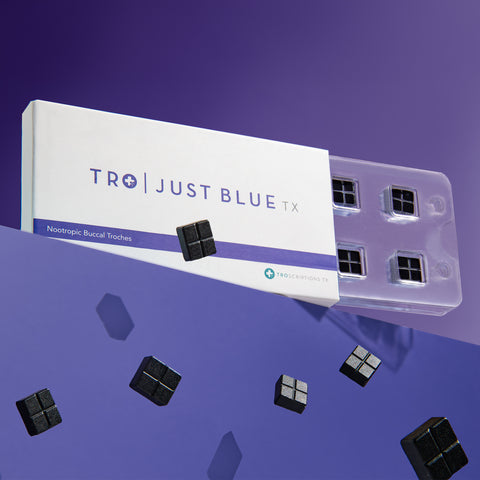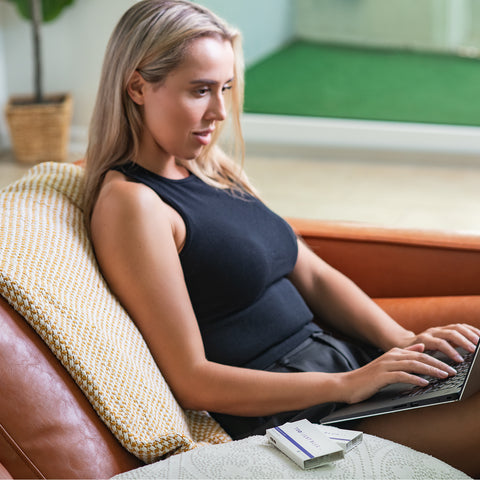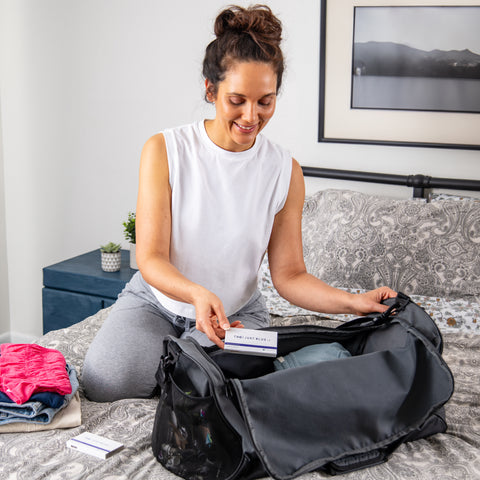 Just Blue
1 Pack = 4 Troches = up to 16 doses
A powerful brain booster that increases energy production and builds resilience.

polyethylene glycol, stevia extract, lou han extract, peppermint, silica, Bitter-Bloc™
Calibrate Your Dose of Just Blue
1. Choose Your Starting Point
Decide on your starting dose and, if needed, cut the troche accordingly.
Gently place the troche between your gum and upper cheek. Alternatively, because Methylene Blue is highly bioavailable, you can also swallow it on an empty stomach.
Allow the troche to dissolve completely. Onset will be 15 to 20 minutes if used as a buccal troche and 60 to 90 minutes if swallowed.
Soon you'll feel methylene blue 's transformational effects as it powers up your cells.
5. Unlock Energy and Resilience
Just Blue will brighten your focus, boost your mood, your energy, and your endurance.
Buccal Troche Delivery
Have you been swallowing your supplements up until now? At Troscriptions, we do things a little differently - we use buccal troches
A buccal troche is a uniquely designed delivery system that enhances the absorption of active ingredients directly into your bloodstream. Traditional methods (like tablets or powders) must navigate the detours of your digestive system, but buccal troches allow for more rapid and
effective absorption by skipping the digestive system. The result? A swift, potent effect for maximum benefits.
Beyond USP Ingredients
USP designates a pharmaceutical grade ingredient but for some this may not be enough and there can still be contaminants. This is why at Troscriptions, we go above and Beyond USP. Every ingredient undergoes additional rigorous testing for heavy metals, purity, and potency providing you with peace of mind. Experience the Troscriptions difference, where premium quality and safety are our unwavering commitment to you.
Child Resistant Packaging
Your safety and your family's safety is our top priority, which is why we've gone an extra mile to utilize child-resistant packaging for our products. We understand that this might make the packaging slightly more challenging to open, but it's a measure designed with the utmost safety in mind.
Frequently Asked Questions
What benefits will I get from Just Blue?
What scientific research is the formulation based on?
Will it turn my mouth blue?
Can I see the 3rd party testing?
Why does it contain Polyethylene Glycol (PEG)?
How many troches am I getting?
What is the difference between Blue Cannatine & Just Blue?
Are there contraindications for Just Blue?
Endorsed by Leading Health Professionals and High Achievers
Davinia Taylor
Actress, Author, Biohacker, Socialite & Interior Designer
"Troscriptions provides the extra edge and endurance needed to plough through everything from my taxes to the London Marathon with clarity and joy."

Dave Asprey
Founder of Bulletproof 360, Inc.
"Methylene Blue is one of my favorite biohacks and mitochondrial enhancers of the last 20 years."
"It's great knowing that whenever I take that dose it's going to be a difference maker. That's whether I'm already firing away and need that extra focus, or even when I'm a bit drained and need to get back on track. It works in the best of ways for my lifestyle."
Carolyn Hicks
Real Customer
"I have started taking this product for several reasons and improved mitochondria function is the main one. However, the energy boost is very welcome too. I can take a half square and be able to complete what was once a very taxing schedule much more easily. I am almost 70 and often work rings around people ten to twenty years younger."
Cassandra S.
Real Customer
"I am hooked on MB. When I take Just Blue I have so much energy and focus and just generally feel great! Love to pair it with red light therapy/sunlight as well!"

Our team isn't just built on expertise - it's powered by real-world clinical application. We have 4 physicians on the team who use Troscriptions in their practice.
We traverse the globe to create, craft and discover groundbreaking, effective ingredients, subjecting each one to rigorous testing for unparalleled purity and potency.
All ingredients are evenly distributed and carefully calibrated into our formulas. Plus, our troches are scored to help you easily find your unique dosage.

We ensure uncompromising standards and superior quality. Our products are meticulously created, clinically tested, and crafted with utmost care, right here in the USA.
Go to top