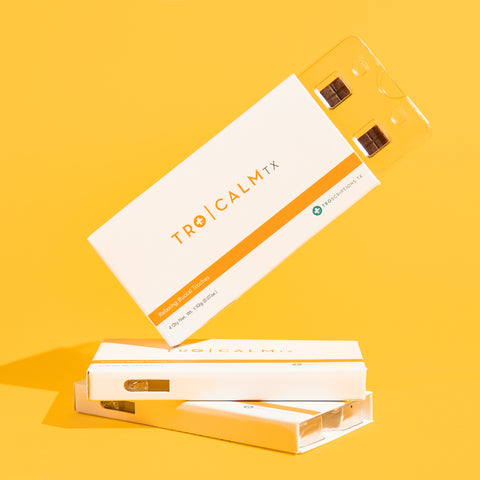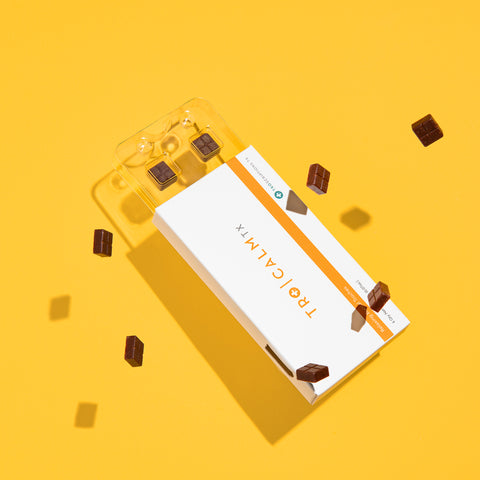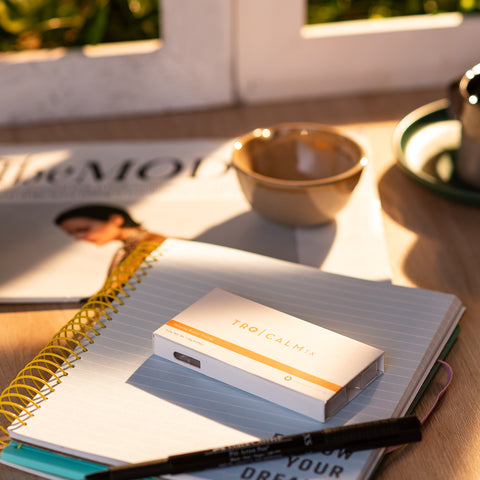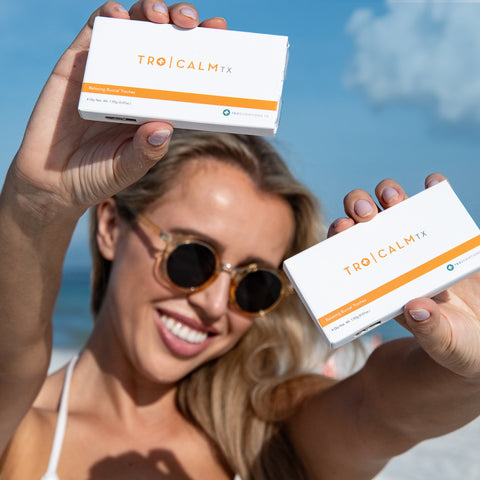 Tro Calm
1 Pack = 4 Troches = Up to 16 Doses

2 mg. CBG aids in supporting neurological health, promoting relaxation, decreasing pain sensation, and enhancing mood.

10 mg. CBD reduces stress, protects the brain, and promotes a calmer, more focused, and more blissful mind.
50 mg. Nicotinoyl GABA ("B3GABA"), unlike regular GABA supplements, crosses the blood-brain barrier, and decreases stress and anxiousness.
100 mg. Enhances GABA in the brain, working in synergy with B3GABA to relax neuron firing.

polyethylene glycol (PEG), Lemon Essential Oil, Reb M, Luo Han Guo, Annato
Calibrate Your Dose of Tro Calm
1. Choose Your Starting Point
Decide on your starting dose and, if needed, cut the troche accordingly.
Gently place the troche between your gums and upper cheek.
Allow the troche to dissolve completely.
In just 15 to 30 minutes, you'll begin to sense Tro Calm's transformative effects.
Immerse yourself in the balanced calm for the next 3 to 5 hours!
Buccal Troche Delivery
Have you been swallowing your supplements up until now? At Troscriptions, we do things a little differently - we use buccal troches
A buccal troche is a uniquely designed delivery system that enhances the absorption of active ingredients directly into your bloodstream. Traditional methods (like tablets or powders) must navigate the detours of your digestive system, but buccal troches allow for more rapid and
effective absorption by skipping the digestive system. The result? A swift, potent effect for maximum benefits.
Beyond USP Ingredients
USP designates a pharmaceutical grade ingredient but for some this may not be enough and there can still be contaminants. This is why at Troscriptions, we go above and Beyond USP. Every ingredient undergoes additional rigorous testing for heavy metals, purity, and potency providing you with peace of mind. Experience the Troscriptions difference, where premium quality and safety are our unwavering commitment to you.
Child Resistant Packaging
Your safety and your family's safety is our top priority, which is why we've gone an extra mile to utilize child-resistant packaging for our products. We understand that this might make the packaging slightly more challenging to open, but it's a measure designed with the utmost safety in mind.
Frequently Asked Questions
What benefits will I get from Tro Calm?
What scientific research is the formulation based on?
Will it turn my mouth orange?
Can I see the 3rd party testing?
Why does it contain Polyethylene Glycol (PEG)?
How many troches am I getting?
Are there contraindications for Tro Calm?
Endorsed by Leading Health Professionals and High Achievers

Neil Strauss
Author of 10 New York Times Bestselling Books
I save my Tro Calm for those days when my mind races ahead of reality and throws me into unnecessary anxiety. It provides a gentle return to stillness and equanimity.

Dorothy Lunche
Real Customer
"Embrace Serenity: Tro Calm Relaxing Buccal Troches can be a healthier choice for those seeking relaxation without the adverse effects of alcohol. They provide a natural and mindful approach to stress management, promoting calmness. I take 1/2."

Louis Essey Jr.
Real Customer
"My girlfriend has anxiety and depression from childhood trauma I gave her the Brown tablets so she could get a good night's rest she loves them.. it has reduced or anxiety greatly.. it's time for me to reorder.. this is an amazing product thank you so much for bringing it on market... By the way I'm 76 years old.. and work a full-time job 40 hour week.."

"Helps with anxiety and tension headaches. Trocalm has helped me with symptoms of anxiety and tension headaches. I get them often when I'm stressed. It also helps my overall body's constitution with the GABA, giving my brain some love."

Our team isn't just built on expertise - it's powered by real-world clinical application. We have 4 physicians on the team who use Troscriptions in their practice.
We traverse the globe to create, craft and discover groundbreaking, effective ingredients, subjecting each one to rigorous testing for unparalleled purity and potency.
All ingredients are evenly distributed and carefully calibrated into our formulas. Plus, our troches are scored to help you easily find your unique dosage.

Every formulation we craft undergoes meticulous 3rd party testing, ensuring you're receiving nothing but the finest.