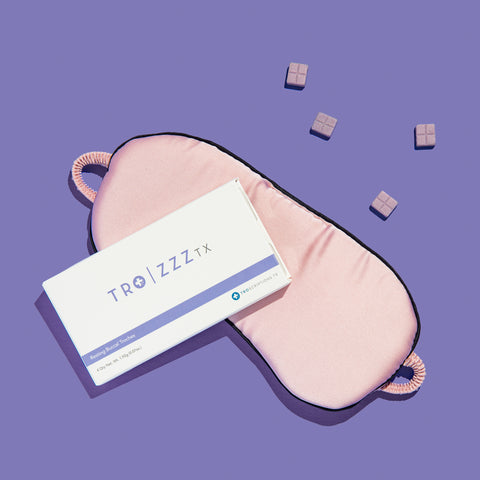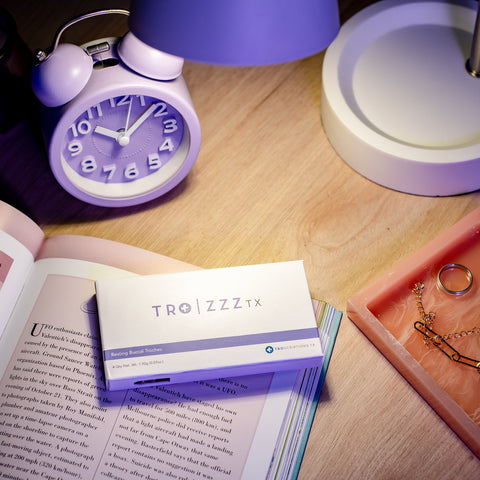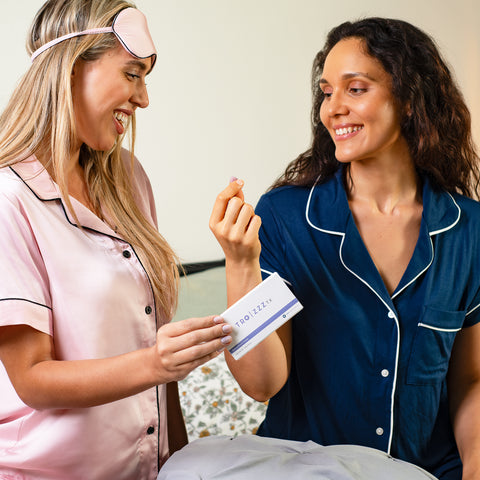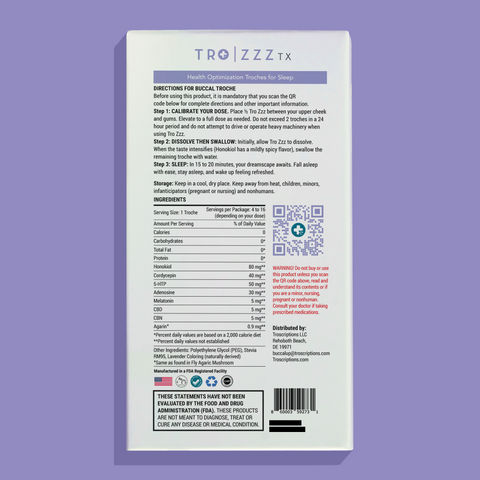 Tro Zzz
1 Pack = 4 Troches = Up to 16 Doses
NOT FOR SALE IN LOUISIANA. MAXIMUM 2 UNITS PER PURCHASE. DO NOT USE WHILE DRIVING OR OPERATING HEAVY MACHINERY.

80 mg. Enhances GABA binding to its receptor, increasing GABA neurotransmission, and calming down the firing of neurons.

30 mg. Neurotransmitter that when bound to its receptor, increases sleep drive and sleepiness.

1 mg. Binds to GABA receptors in the brain, increasing GABA neurotransmission. Same compound that is found in the Fly Agaric mushroom (contains no ibotenic acid).

5 mg. Neurotransmitter and antioxidant that promotes sleepiness.

50 mg. Metabolite of tryptophan that promotes sleep maintenance and mood stability.

10 mg. CBD reduces stress, protects the brain, and promotes a calmer, more focused, and more blissful mind.

5 mg. Non-psychoactive cannabinoid that promotes relaxation, provides mild pain relief, and may improve sleep.

40 mg. An adenosine analog which may improve deep, slow wave sleep, enhance immunity, decrease inflammation, and promote metabolic health.

Polyethylene Glycol, Stevia, Lavender Coloring (Naturally Derived)
Buccal Troche Delivery
Have you been swallowing your supplements up until now? At Troscriptions, we do things a little differently - we use buccal troches
A buccal troche is a uniquely designed delivery system that enhances the absorption of active ingredients directly into your bloodstream. Traditional methods (like tablets or powders) must navigate the detours of your digestive system, but buccal troches allow for more rapid and
effective absorption by skipping the digestive system. The result? A swift, potent effect for maximum benefits.
Beyond USP Ingredients
USP designates a pharmaceutical grade ingredient but for some this may not be enough and there can still be contaminants. This is why at Troscriptions, we go above and Beyond USP. Every ingredient undergoes additional rigorous testing for heavy metals, purity, and potency providing you with peace of mind. Experience the Troscriptions difference, where premium quality and safety are our unwavering commitment to you.
Child Resistant Packaging
Your safety and your family's safety is our top priority, which is why we've gone an extra mile to utilize child-resistant packaging for our products. We understand that this might make the packaging slightly more challenging to open, but it's a measure designed with the utmost safety in mind.
Frequently Asked Questions
What benefits will I get from Tro Zzz?
What are the ingredients in Tro Zzz?
What scientific research is the formula based on?
Will it turn my mouth purple?
Can I see the 3rd party testing?
Why does it contain Polyethylene Glycol (PEG)?
How many troches am I getting?
Are there any contraindications for Tro Zzz?
Endorsed by Leading Health Professionals and High Achievers

Neil Strauss
Author of 10 New York Times Bestselling Books
I save my Tro Calm for those days when my mind races ahead of reality and throws me into unnecessary anxiety. It provides a gentle return to stillness and equanimity.

Miesha Tate
Former UFC Women's Bantamweight Champion
My favorite thing about Blue Cannatine is that it allows me to function at a high level comfortably. It's easy. I'm able to remember people's names and go, go, go.

Carlos Condit
Retired UFC Fighter
"I really like Blue Cannatine. It's the best thing I've taken to supercharge my brain. I am able to think quickly, slow things down, drop into flow, and it has been awesome to use during Jujitsu."

Ben Greenfield
Entrepreneur & Bestselling Author
"Blue Cannatine is one of the best, most well-formulated yet unique nootropics I've discovered. If you haven't yet tried it, you absolutely MUST! You'll be blown away by the results, especially when combined with sunlight!"
Davinia Taylor
Actress, Author, Biohacker, Socialite & Interior Designer
"Troscriptions provides the extra edge and endurance needed to plough through everything from my taxes to the London Marathon with clarity and joy."

Luke Storey
Podcast Host, Meditation Teacher & Lifestyle Design Expert
"The Cosmic MD (Dr. Ted) has created one of the best nootropics on the planet. Blue Cannatine is my go-to when I record podcasts, give lectures, and when I need to function at my highest capacity."

Our team isn't just built on expertise - it's powered by real-world clinical application. We have 4 physicians on the team who use Troscriptions in their practice.
We traverse the globe to create, craft and discover groundbreaking, effective ingredients, subjecting each one to rigorous testing for unparalleled purity and potency.
All ingredients are evenly distributed and carefully calibrated into our formulas. Plus, our troches are scored to help you easily find your unique dosage.

Every formulation we craft undergoes meticulous 3rd party testing, ensuring you're receiving nothing but the finest.

We ensure uncompromising standards and superior quality. Our products are meticulously created, clinically tested, and crafted with utmost care, right here in the USA.